Here's the latest on Just Peace (as of Memorial Day weekend, 2011):
In March we announced that Congressman Larson had invited Hartford-area clergy to work with him and members of the Congressional Black Caucus (CBC) on programs in Hartford surrounding the 200th birthday of Harriet Beecher Stowe. Due to a number of communication oversights on the part of Congressman Larson's local staff, the planning of these events did not proceed with clergy involvement as we had anticipated. The Congressman's local staff and leaders of the Harriet Beecher Stowe House have apologized for their oversights. They would love for clergy to join in the events that have been scheduled. In particular, members of the CBC will be honored at a reception at the Artists Collective (1200 Albany Ave.) on the evening of Thursday, June 9th, from 7:00 to 9:00. All clergy are invited. Please RSVP to eva.bunnell@mail.house.gov. 
Then, on Friday morning, June 10th, at the Bushnell Theater from 9:30 to 12:30, members of the CBC will participate with state and national experts in "A Call to Action: A Conversation on Race and Social Justice." These conversations will focus on the three pillars of the CBC's legislative agenda: addressing the educational achievement gap, addressing racial disparities in health care, and addressing the economics of race in America. Clergy are invited to respond publically to the CBC's call to action.
Looking beyond the CBC visit, last month several of us met with a group of youth at Hartford Communities That Care as part of our initiative to reach out directly to the youth in our area. We had some very positive conversations and would like to continue to meet over the summer. We will share more information on this initiative as it becomes available.
 Finally, Just Peace is still negotiating with Governor Malloy's office to find a time for the Governor to take a tour of North Hartford. Our vision is for a two hour morning tour to be followed by a clergy luncheon. The Governor's office has asked us to wait until after the legislative session. We will provide more information as soon as it becomes available.
HISTORY
In January, 2008, leaders from the Greater Hartford Interfaith Coalition for Equity and Justice (GHICEJ) and the Greater Hartford Interdenominational Ministerial Alliance (IMA) convened a breakfast at the State Capitol to introduce a new concept to legislators concerned about urban violence. Their message:

Violence—especially youth gun violence—must be understood as a public health crisis.
It must be treated the way public health officials would treat the outbreak of a disease.
There must be strategies for prevention before violence happens; strategies for intervention as violence is happening; and strategies for treatment and healing once violence has occurred.
We will never solve the problem of urban youth violence if we approach it simply from the standpoint of criminal justice. Yes, criminals need to be held accountable for crimes, but
Violence needs a more holistic solution.

 
Following that breakfast, GHICEJ and IMA leaders, along with leaders from the Connecticut Conference of Churches, visited Governor Jodi Rell in April of 2008. They called on her to convene a summit on urban youth violence. The Governor's summit took place in November of 2008.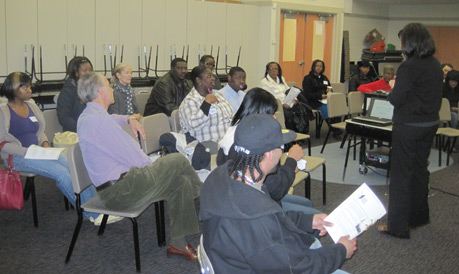 Many of the proposals that emerged from that conference have yet to be implemented—in part due to the budget crisis that has plagued Connecticut lawmakers since 2009. These proposals include:

The creation of a Connecticut Council on Urban Youth Violence Prevention;
An expansion of Hartford's Peacebuilders program;
An expansion of New Haven's Public Health Community Policing initiative; and
Efforts to better coordinate services for children exposed to violence.
In addition, in partnership with the Rev. Marcus McKinney of the Pastoral Care office at Hartford's St. Francis Hospital, GHICEJ and IMA leaders have conducted trainings for clergy and lay people who wish to provide pastoral care to victims of violence.
Through these trainings and through the GHICEJ-IMA partnership known as Just Peace, we believe we have the capacity to bring substantive, positive change to our region.